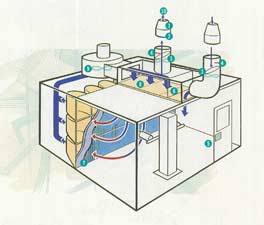 Re-Circulating Booths
Re-circulating booths are designed for automatic and manual operations and comply with EPA 1990 PG6-23, HSE, EH9 regulations.
Discharge efflux velocity 15m/sec
Extract duct must terminate at 3m above roof apex
Dampers are automatically set for inlet and exhaust balance
Airflow sensor fail-safe system
Doors interlocks to ensure personal access safety, electromechanical controls, automatic shut down devices and fire prevention systems to meet appropriate legislation
Membrane ensures clean air into booth
PSW unique twin/triple EPA filter media ensures environmental compliance of 50mg/cubic metre solid particulate extract.
PSW inlet filters guarantee clean input air at 5 microns (10 microns std)
Extract fan sized to give air changes or airflow to suit type of application required
To atmosphere or abaitment system. If especially toxic materials are used, an ultra high performance filter is fitted to meet specific health and environmental requirements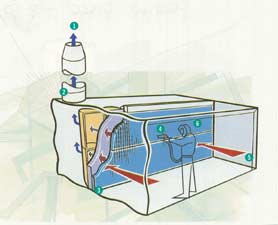 Dry Filter Booths
PSW dry filter spray booths are made to comply with current and foreseeable requirements under the EPA 1990 guidance notes PG6-23, HSE and EH9. It is mandatory to fit an efficient filter system to trap overspray paint particulate.
Dry and EPA multi filterspray booths are recommended for low to medium production requirements.
Discharge efflux velocity 15m/sec particulate emmissions to be no higher than 50mg/cubic metre
Extract duct to terminate at 3m above roof apex
Single and EPA multi layer filter media ensures environmental compliance
Air velocity 0.7m/sec (140ft/min) as specified by EH9 guidelines.
PSW Spray booths Limited is a newly formed sister company to Pneumatic services who have supplied finishing services and equipment exclusively for over 40 years. We are pleased to announce with the formation of PSW Spraybooths Limited, our diversification into the field of spraybooth and sheet metal manufacture and supply.
This move represents a considerable investment for us and our aim is to ensure that we are able to offer the complete range of spraybooths, with high quality of spraybooth manufacture, quick deliveries and service as customers have come to expect over the last 40 years.
We would also like to take this opportunity to inform you of the other services that we offer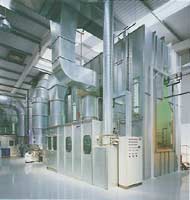 Manufacture supply and installation
Spraybooths
Paint mix rooms
Flashoff tunnels
Sheet metal panels
Horizontal and vertical automatic spraying machines
Paint circulation systems
Mix sets
Hydraulic and pneumatic systems
Drum cover elevators
General fabrication work
Clean Rooms
Pipework Systems
General Engineering
Paint Mix Sets
Services
Spraybooth servicing
Paper filter supplier
Water treatment chemicals
Paint application equipment
Spray Machine Servicing
MEETING ENVIRONMENTAL LEGISLATION
Spraybooth systems are subject to the strictest environmental and health at work legislation. Any infringement can lead to heavy fines and closure of production. Furthermore, proposed UK and European regulations are even tougher. Full compliance with existing and foreseeable legislation is essential. As leading specialists in spraybooth design we have extensive experience meeting these exacting demands.
ASSESSING ENVIRONMENTAL IMPACT
For greenfield projects or extending an existing facility, PSW experts will carry out detailed surveys and feasibility studies to determine the optimum system to meet production and finish specifications as well as comply with existing EPA regulations (Environmental Protection Act 1990) and proposed legal requirements. Every factor will be taken into account such as the type and volume of material used, whether it is solvent based, water borne, high solids or a two component paint and whether it is a high output or intermittent finishing process.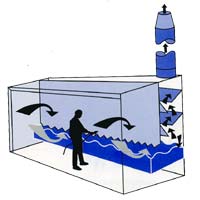 NOPUMP WATER WASH SPRAYBOOTHS
The Nopump system is world famous for its efficiency and reliability. As the name suggests there is no pump or associated pipework or nozzles to become clogged. High velocity air is drawn across the water in the bottom of the booth, producing violent agitation. The turbulent liquid is then circulated with abrupt changes in direction creating a constant scrubbing effect on the pain particles. This action causes them to break down and the pigment sinks to the bottom as a non-sticky, easy to dispose of silt. Automatic monitoring using special depression control valves ensuring the correct water level. The time between major clean-outs is dramatically extended and may only be needed at the annual shutdown. As there is no equipment mounted outside nor any need for bulky settling tanks, the booth is very compact and takes up minimum floor space. The unique. Virtually maintenance-free, Nopump is the preferred water wash spraybooth in paint shops world-wide.

SINGLE DRY FILTER MEDIA SPRAYBOOTHS

WET FILTER MEDIA SPRAYBOOTHS